Pams Prep Kitchen: Top Slow Cooker Tips & Hacks
There's nothing better than having 6pm roll around and coming home to the smell of an already made dinner bubbling away on the bench. With a slow cooker, you can manage the mid-week mayhem, or prioritise a lazy Sunday evening, in the easiest and most cost-effective way possible. Cheap to buy and run with minimal effort - all you have to do is pop your ingredients in and let the cooker do the work! With a few Pams Prep Kitchen tips and tricks, you'll be a slow cooker pro in as little time as your dinner takes to prep.

Slow Cooker Meats
Slow cookers are a great way to cook cheaper types of meat, transforming some of the most stubborn cuts into succulent and tender pull-apart meals especially great for wholesome winter evenings.


We recommend always searing your meats. For stews and curries, sear your meat pieces in a pan before placing in the slow cooker to create caramelisation and crispness, as well as retain juiciness and flavour. For larger whole cuts of meat, place them under the grill to brown off and caramelise the skin. Some of our favorite bone-in cuts of meat are lamb and pork shoulder, lamb necks and bone-in chicken thighs. We also love tough cuts like chuck steak and bolar roast that cook down and tenderise.


You can also use less meat, as slow cooking really extracts a meaty flavour that permeates the whole dish - so bulk up your stews and soups with vegetables that can really soak up those profiles! We also love sautéing onions and aromatics before adding to the slow cooker, for added depth of flavour.



It's also easy to swap your classic weeknight meals to become slow cooker favourites. Our Honey Soy BBQ Chicken & Rice Salad is great for popping in the cooker! Simply cook the chicken on low for 5 hours or high for 3, turning the drumsticks halfway through. Remove, and place under a hot grill for the final 5 minutes, or until browned and crisp.


Cooking Whole Meats
The slow cooker is great for whole cuts of meat - like a whole chicken! To slow cook a whole chicken, scrunch up some foil to make a trivet to sit in the base of the bowl and place the chicken on top. Season the skin and add a splash of water. Cover and cook on low for 5 hours, until a leg or wing feels very loose when you wiggle it. Tip out the juices from inside the chicken as you remove it from the slow cooker, and set them aside for your gravy. Place the bird under the grill for 5 minutes to get some colour before serving.


Reduce the Liquid!
Because slow cookers have a tightly sealed lid, any liquid you add won't evaporate, so make sure you don't add too much! Added liquid such as stock or water should only just cover the meat & vegetables in order to keep things juicy. Slow cookers are really great at retaining this added moisture, making them perfect for cooking other things such as broth and soups. We love using a cooker to make our nourishing Slow Cooker Chicken Bone Broth Soup.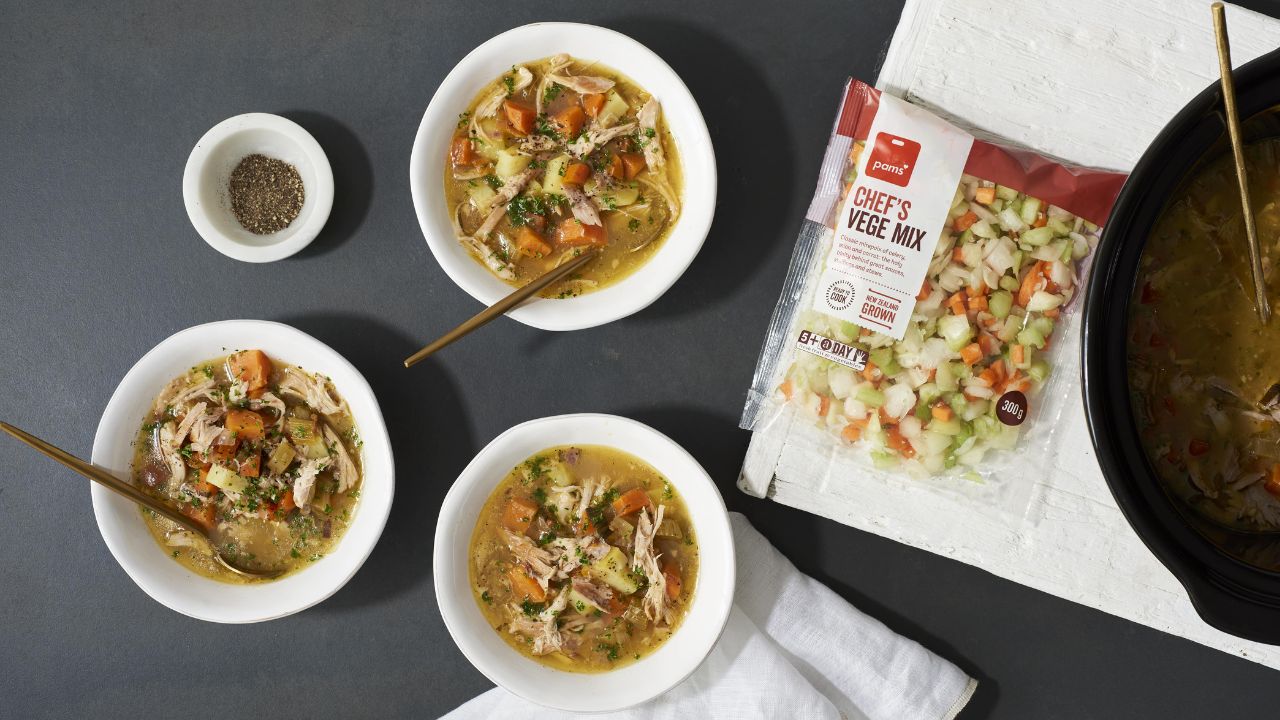 Stretch Your Dollar
Cooking in large batches is great for meal prepping, where you can make dishes ahead of time and freeze for future meals. We also love bulking up stew, chilli and soup with legumes and beans that cook tender and delicious when on a low setting. If you're serving your dish with bread, buns or tortillas, a great way to reheat them is by placing a piece of baking paper over your meat and layering them up to warm in the slow cooker for the last 10 minutes of cooking. This is a great hack when making our Slow Cooker Mexican Pork.


Utilise Your Settings!
The high and low settings on your slow cooker are great for which time of the day you're cooking. We love using the "low" setting as often as possible! Most dishes benefit from a slow and gentle heat to really bring out the flavours and ensure perfectly tender meat. This also means you can prep your dish before work and set and forget for the day. However, if in more of a time crunch, the high setting halves the time and gets your food on the table quicker.


Thicken Your Sauce
There are a few different ways to thicken your sauce! Try rolling your meat in flour before searing it to help with a thicker sauce. Alternatively, add a corn flour slurry to the slow cooker for the last hour of cooking. Another option is to simply remove the meat from the slow cooker once it's ready and pour the liquid into a saucepan to simmer down on the stove until thickened.


Your slow cooker is the champion of convenient cooking. From soups, stews, whole cuts of meat, sauces and even desserts – make this revelation your new best friend.
Easy slow cooker recipes