Make kid's lunches fun again!
School's back on and we're slowly trying to find some semblance of routine again. Unfortunately, life gets busy and kids are constantly changing their minds about what they like for school lunches! Here's where we come in – we have you covered with delicious and easy lunchbox tips, recipes, and a huge range of ready to go snacks!
Simple snacking
No time or inclination to slave over home-made muesli bars, crackers or cookies? Our extensive range of Pams snacks are a great addition that kids love. The Pams Muesli Bars are a big hit in lunchboxes, or great for an on-the-go snack! Available in exciting flavours these muesli bars are made with chewy wholegrain oats, cereal crisps and a delicious milk choc base.
Explore Pams Muesli Bar range
Looking for more options? Your kids will love our handy Tasty Natural Cheese & Cracker packs, or our Creamy Cheese wedges, as a grab and go option full of protein and calcium. Or, grab a pack of our Pams Carrot Batons for a no fuss healthy snack – even better dipped into Pams Classic Hummus.
Have a bit more time? Try one of our favourite DIY school lunchbox snacks, the classic Southland Cheese Roll. They're incredibly easy to make, can be frozen ahead of time and you can even get the kids involved!
Make it ahead
Getting back into routine can be tough, but to make the transition easier, preparation is the key. Our easy, tasty and nutritious Pea & Haloumi fritters are the perfect make ahead lunchbox filler – plus they're a great way to sneak extra veg into your wee ones. Make a batch to store in your fridge or freezer and have on hand throughout the week. We reckon 25 minutes of prep is totally worth the hassle-free lunches for the next five days!

Another favourite with the kids is an easy to prepare snack of roast kumara or potato chips. Next time you're roasting vegetables for dinner, throw in some extras for an easy, tasty lunchbox snack the next day. The best thing about leftovers for lunch – there's no extra work or clean up! Got no time to make your own? Throw in half a bag of Pams Sweet Potato Fries, Carrot & Parsnip Fries or Seasoned Wedges and you're good to go. Just don't forget the tomato sauce!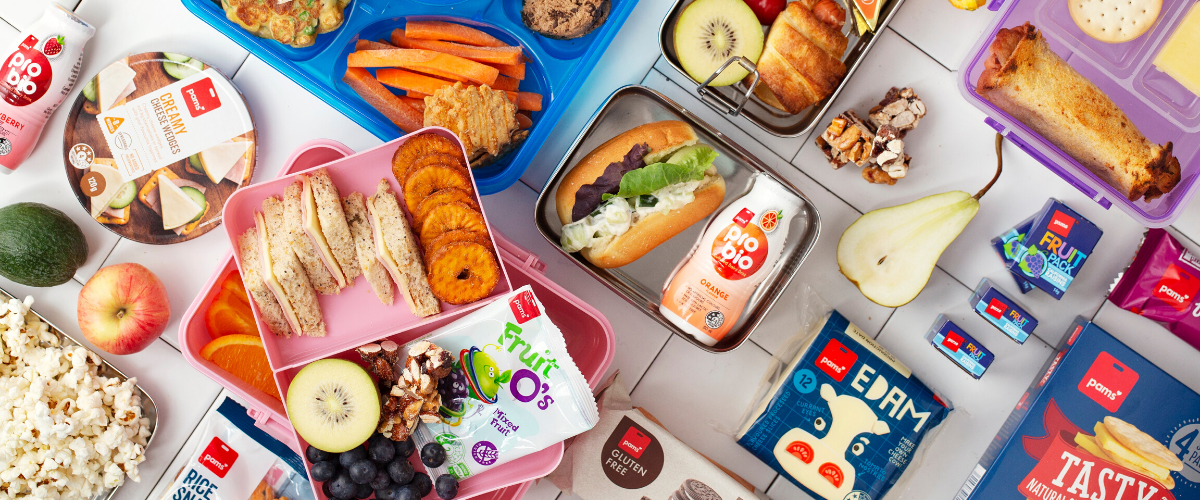 The classic sandwich
Sandwiches have always been a Kiwi lunchbox staple, and for good reason – they're a nutritious and filling option to keep your kids going through a busy day. But we know they got sick of the same old, so try a twist on the classic to shake things up. Our Stacked Sandwich Skewers are just the trick – they're easy, tasty and they're fun!

Got some leftover chicken from last night's roast? Make the most of your leftovers and give your kids a tasty treat at the same time with our delicious Chicken & Mayo Mini Rolls. They're ready in no time, and your kids will love the novelty of having a mini buffet roll in their lunchbox.

Everyone loves a classic ham and cheese sammy! For an easy gluten-free option, use slices of our Pams Shaved Ham and Pams Edam Cheddar Slices between two soft, buttered pieces of our favourite Pams Gluten Free Loaf Everyday Loaf. Eat it fresh, toast it before popping it in the lunchbox, or for those lucky kids with school kitchens, wrap it in tinfoil ready to toast at school.


The key to a successful lunch
Getting back into making school lunches can be tough, and it's certainly not helped by the ever-changing taste buds of children, or the heartbreak of seeing a half-eaten lunchbox returned. The number one easiest way to ensuring everything gets gobbled up? Get the kids involved!

It may take a little extra time (and frustration) but by helping to choose and prepare their lunchbox items, kids will feel a certain amount of pride – making them more inclined to eat everything. Giving guidelines can really help – make them feel like they're choosing but keep a firmer control on what ends up in there for the younger ones. Ask if they'd prefer carrot or cucumber sticks? Chicken or ham sandwiches? Apple or mandarin? For the older kids, give them categories to fill, i.e. one fruit, one vegetable, one main, one sweet snack and one savoury snack. Eventually, you'll only be needed for the parent tick of approval!