Pams Christmas Platter: Share the Load
Christmas time is a joyous occasion when loved ones come together for quality time, and to eat delicious food around the table. To take the festive feasting stress off of one person's shoulders, why not make the day more enjoyable for all and share the load!
Opting for a new take on the traditional Christmas lunch could make the world of difference for the hard workers in the kitchen. Simply trade in the slow-cooked roasts and intricate salads for buffet-style platters and fabulous finger food. Prepping in advance and planning ahead makes the day less stressful, and more fun!
We love the idea of having a plate-less Christmas feast with handheld nibbles and brown paper lining the table for quick clean up. Covering the basics for the day by planning a relaxed menu can limit the time in the kitchen which means more time with your loved ones. Even better, get everyone to bring a plate – potluck style! We've all had a big year, so sharing the load brings a new and exciting way to enjoy Christmas, without the fuss!
Watch the video to see how you can create your own Pams Christmas Platter for fuss-free fun.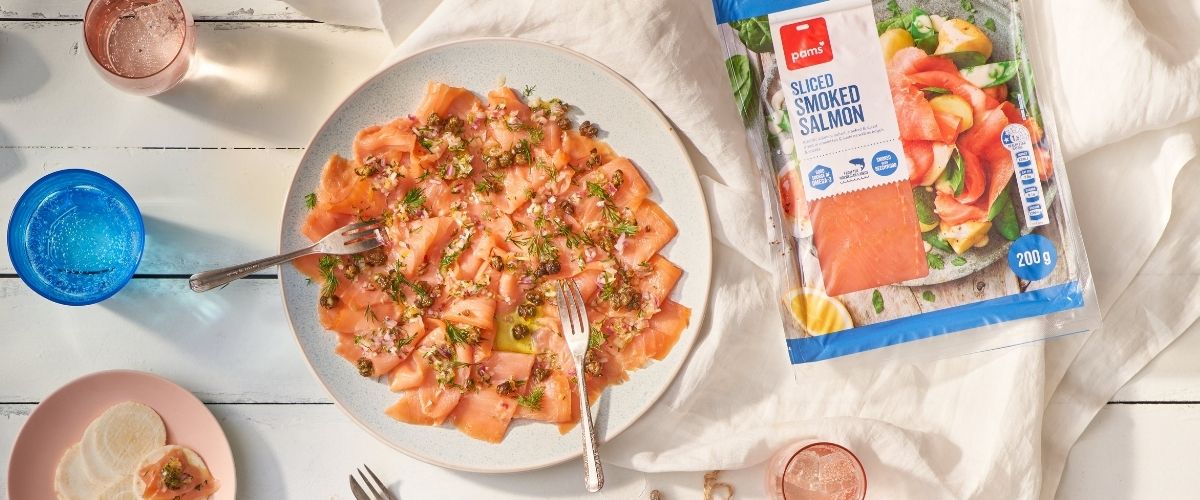 Sing of summer with this delicious Smoked Salmon Carpaccio. With bright, zesty flavours, this dish will be the star of your festive platter! Perfect served alongside a light salad, or placed on top of Pams Finnest Sesame Wafer Crackers, crusty toasted crostini, or simply on its own to appreciate the flavours.
To make life easier, marinate the salmon in a reusable zip-lock bag the day before, and simply top with the fried capers right before serving!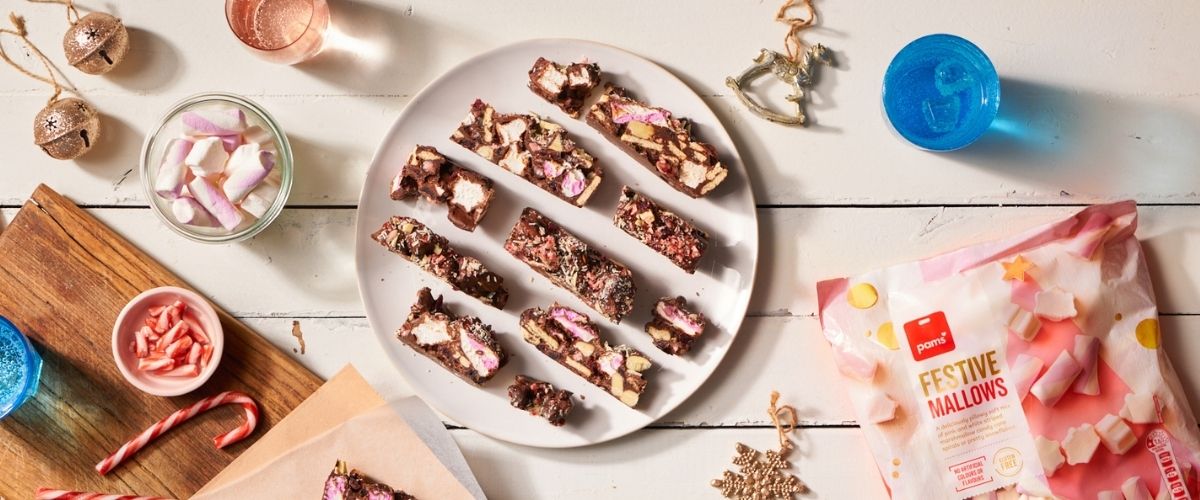 Treat your sweet tooth loved ones at the feast with this customisable Festive Rocky Road. Decadent, delicious and dangerous - this peppermint-y sweet treat is sure to be a hit on the table. Whip this up the day before and keep in the fridge until time to serve. But, once it's out for open, get in quick before only crumbs are left!
Mini Ham & Brie Rolls
Our take on the traditional Christmas ham recipe – handheld filled rolls with all the best bits! Using Pams Buffet Rolls, Pams Champagne Ham, Pams Wholegrain Mustard, and Pams Brie Cheese, simply fill the cooked rolls with the toppings and serve on a wooden board for easy pick-up. No plates necessary!
Tomato & Bocconcini Skewers
A classic flavour combo merged as finger-food to please a crowd! These skewers are a quick trick to make something festive and moreish, with only 3 ingredients! Use Pams Fancy Knot Skewers to pierce together Pams Cherry Tomatoes, Pams Finest Bocconcini, and some fresh basil for the perfect bite. Serve with a drizzle of olive oil and a crack of salt and pepper - delicious!
Add some extras!
Decorate your platter and fill in the gaps with some ready-made faves! We love Pams Guacamole and Pams Red Pepper Chunky Dip with corn chips and batons of veggies for some healthy nibbly additions, as well as sprinkles of Pams Deluxe Nut Mix. Selections of cheeses & crispy crackers are also great for table fillers – we love spreading Pams Finest Camembert on some Pams Finest Fig & Black Olive Seeded Crackers! Sweet treats such as Pams Festive Mallows, candy canes and seasonal fruit are also great for pops of colour! And for a Christmas day drink, why not indulge in a glass of the Pams Sparkling Grape Juice?

The opportunities for stress-free festive fun are endless – time to get creative and share the load!