Pams Prep Kitchen: Our Guide to Kitchen Fun with the Kids these School Holidays
Feeling overwhelmed by the prospect of entertaining your kids at home these school holidays? Worried you've run out of ideas? Make the most of family time by getting the kids in the kitchen to try a few of our favourite boredom busters.
Get Cooking!
---
Knowing the basics of cooking are skills in which will benefit your kids for years to come - and it's an activity that's suited to a wide range of ages. For the younger ones, get them to help by tipping in pre-measured ingredients. Give the older ones a challenge by giving them the instructions and standing by to offer advice. Bonus - you'll end up with (hopefully) delicious food for the whole family to enjoy after!
Stacked Sandwich Skewers
Our Stacked Sandwich Skewers are perfect for birthday parties, afternoon tea, and even great as a school lunchbox addition! Your kids will love being in the kitchen and getting involved in making them - just keep an eye on the hungry hands and missing ingredients as you work. Customise them based on what you have on hand – what will your favourite combo be?
Use Up that Puff Pastry!
Have you got a couple of sheets of puff pastry sitting in your freezer that you just don't know what to use for? Why not whip up some of these delicious Pizza Twists! Ooey, gooey, and cheesy on the inside with a crispy, flaky crust and pizza filling. Who wouldn't love one of these for their afternoon tea!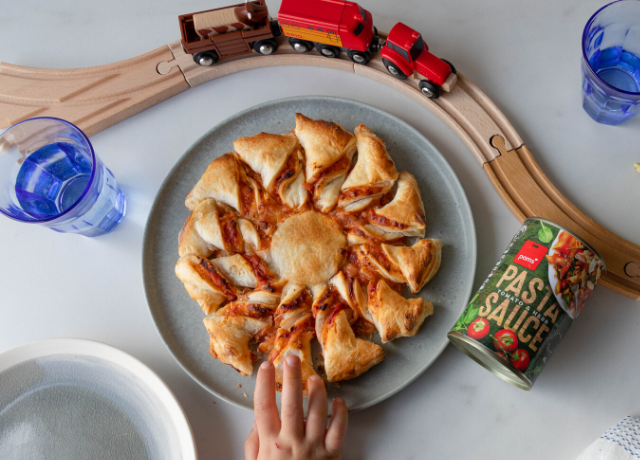 Mini Loaded Dogs Station
Kids always love anything miniature and fun to assemble, so get them in the kitchen to help out with a Mini Loaded Dogs station! Get all of the condiments and toppings ready and let your family go wild with their combinations. From caramalised onions and chives, to cheese and sauerkraut, you really can't go wrong with what you load on!


Gluten Free Kids?
With no flour to be seen in these sweet treats, our Flourless Peanut Butter Cookies are great for baking without gluten! One of the simplest recipes ever made, whip these up when you're at a loss for lunchbox goodies, or if you're just craving a more-ish bite. Get the kids in the kitchen to help with mixing, measuring, and rolling. You can even add in whatever you like – we love mixing in some chocolate chips or topping them with extra peanuts!


Easy Two Ingredient Pancakes
Bananas going bad in the fruit bowl and the kids are hungry early risers? Why not give these quick and deliciously simple Two Ingredient Pancakes a go - even your kids will be able to whip up the batter with ease! The best part - they're gluten free and much more nutritious than classic pancakes, whilst still being super tasty. Let the little ones get creative and make some edible masterpieces - use fresh berries, a drizzle of maple syrup and a sprinkle of icing sugar for the final touches!
Get Crafting!
---
It's amazing what can be created with some imagination and just a few essential bits and pieces found around your family home. Get the kids involved in a bit of DIY and help their motor skills and creativity while you're at it!
DIY Peanut Butter Birdfeeder
Crafting a birdfeeder can be a really valuable activity to teach your kids about your local birdlife - and they're super simple to make! We love using our Pams Ice Cream Cones as they're not too fiddly and can easily have a small hole punched in either side of them for the string to thread through. Simply spread Pams Smooth Peanut Butter around the top half of the cone, and evenly press on the Pams Wild Bird Seed.
String them up and hang on your deck or in the trees in your garden! Sit with your kids and watch the feeder, helping them identify the types of birds in your backyard as a bonus learning activity.


Spoon Puppets & Dolls
Jazz up your garden these school holidays with these cute and colourful wooden spoon puppets and dolls! Handcrafted to reflect your kids' personalities, these little gems are a great way to get the younger ones creatively crafting and keep them busy. Build families of spoons, all with different identities! Spoonville is a great way to bring some joy to your kids and your garden – your neighbours will also be impressed!
Egg Carton Planters
Egg shell planters are a great way to germinate seeds in a fun and eco-friendly way. The best part is when your seeds have sprouted and are ready to be moved to the garden - you can just pop the shell straight in as they'll naturally compost in the soil!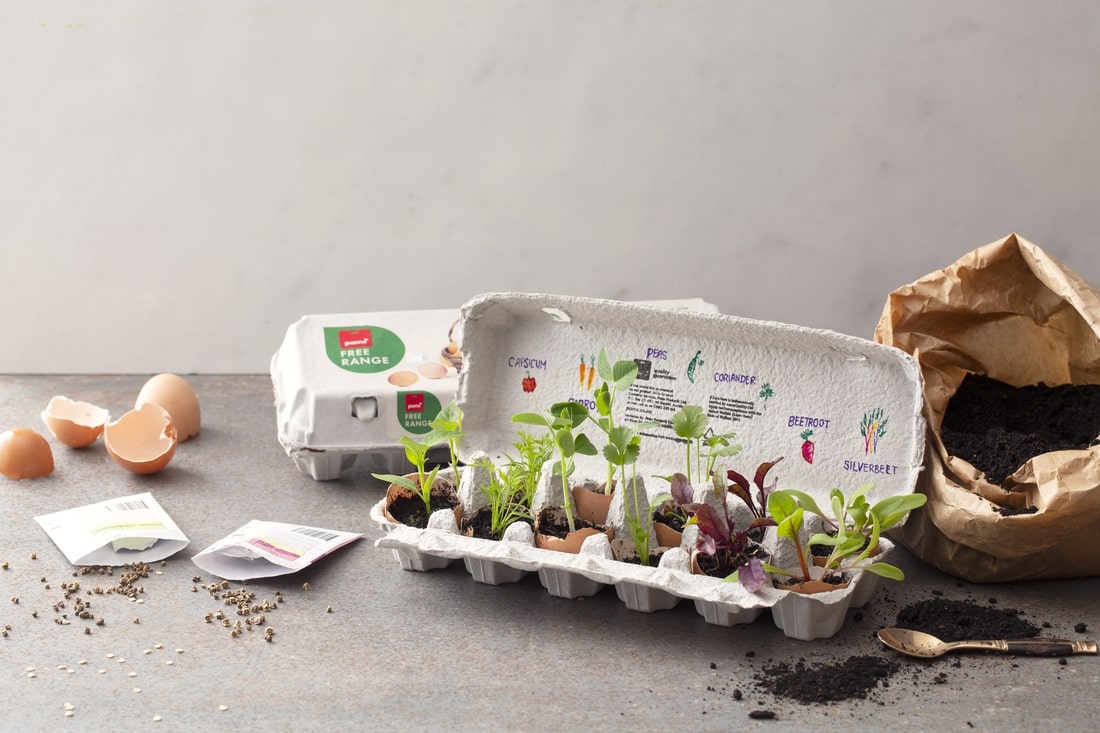 Using recycled materials you already have at home is a great way to get your kids thinking in a more eco-conscious way. Do the environment (and your wallet) a favour and get gardening!

Get Experimenting!
---
While the kids aren't at school, take the opportunity to slip fun learning activities into the mix – they won't even realise they've been actively learning while having fun at the same time!
Chocolate Dipped Hokey Pokey
Create an at-home science class and whip up a batch of Hokey Pokey to show your kids the reaction between sugar and baking soda. The frothing and bubbling mixture is always an exciting experience for little ones - plus they get a sweet treat at the end of it. What better way to learn than by eating the experiment by-product!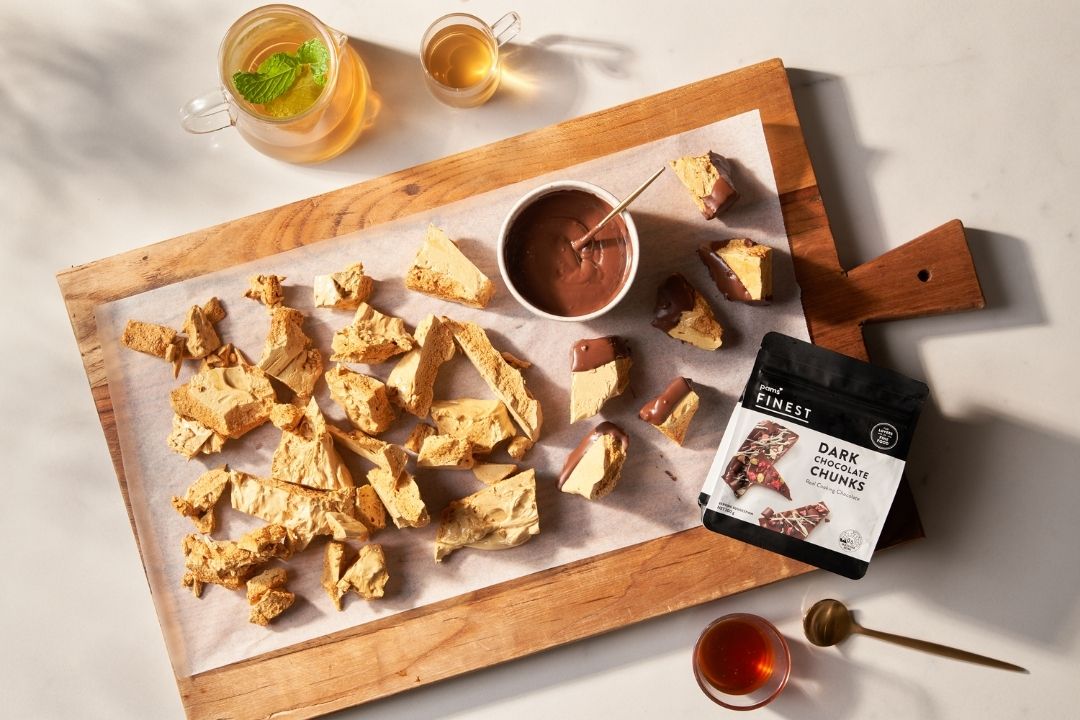 When the baking soda reacts with the warm sugar mixture, it heats up and releases carbon dioxide. This makes small bubbles in the sugar, creating the rapid foaming and increase in size. While you're snacking on your hokey pokey, ask your kids if they can figure out how the reaction works - without checking Google!
Our Fave Kid Friendly Recipes
Inspired to get the kids in the kitchen? These easy, yummy recipes are an awesome place to start!