Stuck for school holiday activities?
Ahh, school holiday time. A joy for some and downright difficult for others. Whichever way you lean, most will agree boredom prevention can be tiresome! Luckily for you, the Pams team have put together a whole bunch of fun activities to keep the kids occupied – all using flour and other cheap, readily available household items! Unfortunately, we can't guarantee no clean up!
Cloud Dough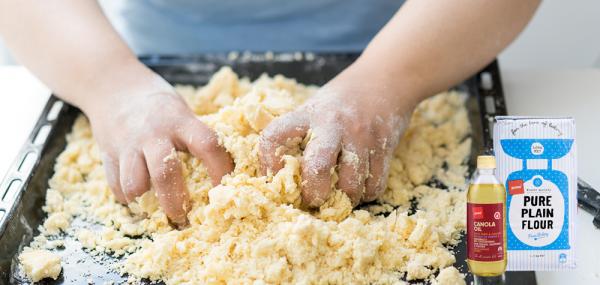 A sensory treat for young and old, this edible cloud dough is sure to keep kids occupied for hours. A lot of recipes for cloud dough call for baby oil – we used vegetable oil instead, just in case it gets in any small mouths!

To make, mix 8 cups of Pams plain flour with 1 cup of Pams Canola Oil. For more fun, add some food colouring! Just ensure oil-based colouring is used and mix it with the oil first. The end result can be moulded then easily crumbled down – just like kinetic sand! Mix up more or less, depending on how many kids need to be entertained, but this makes a nice large tub to be stored and used over again.


Make a squishy balloon toy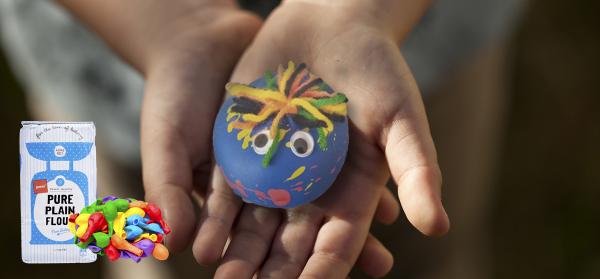 These fun toys can be moulded into all sorts of interesting shapes – try painting on a face and see the different characters you can come up with. Even better – these double as a stress ball for adults for when the holidays are getting the best of you!

To create, simply stretch out a balloon by blowing air into it and deflating, then fill with flour. Tie a knot at the end. To make it extra secure, chop the neck off another balloon and pull it over as a second layer. Enjoy!


Playdough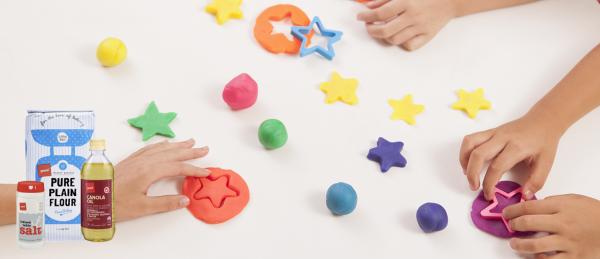 Let's be honest – playdough can be expensive! And whether it's stuck to carpet, mixed together into some strange brown colour, or mysteriously disappeared – it never seems to last long. Our easy playdough recipe is super cheap to make and comes together quick when you need a last-minute activity.

You'll need;

• 2 cups Pams Plain Flour
• 1 cup salt
• 1 Tbsp Pams Canola Oil
• 1 cup hot water
• Food colouring of your choice

Mix together flour, salt, colouring and oil with enough hot water to make a firm dough. Knead until smooth and enjoy! This home-made playdough can be stored for up to three months in an airtight container.
Do some (easy) baking!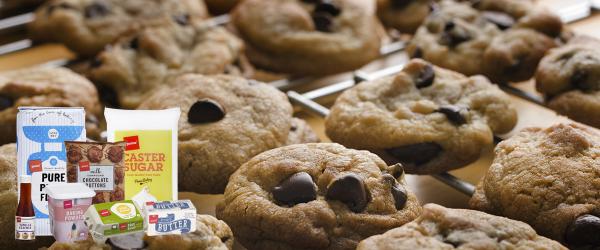 These scrumptious chocolate chunk cookies are super easy to make and even easier to eat! Baking's a great skill to teach kids, but this one will require some supervision.
You'll need;

2 cups Pams Pure Plain Flour sifted
1 cup Pams Caster Sugar
200g Pams butter, melted
1 tsp Pams imitation vanilla essence
1 tsp Pams baking powder
1 egg
Pams cooking chocolate (we love Pams Milk Choc Buttons or Pams Finest Milk Chunks)
Mix up the sugar and butter, then stir in flour, baking powder, vanilla and chocolate. Now's the time to get messy – add the egg and knead using your hands. Roll the dough into little balls, flatten and bake in an oven for 10-20 minutes at 160°C (size dependent). Easy.


Salt Dough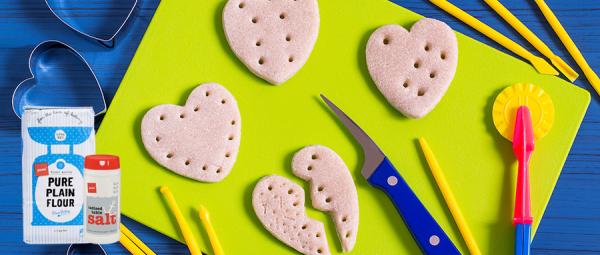 Salt dough is an awesome project to bring out your kids' creative sides! Get them to create key rings, ornaments or even affordable presents for friends and family!

Mix together a cup of Pams plain flour with half a cup of salt. Slowly mix in half a cup of water until you get a dry dough (add more flour if it's too sticky or water if too dry). Knead this out until smooth and then get sculpting! To make coloured salt dough, simply substitute half of the water for paint.

Bake the creations at a low temperature for a couple of hours (around 100°C). Cooking time will vary and depends on the thickness of the creations, or alternatively they can be left out to dry. Once set, decorate with acrylic paint (sealing with a varnish will prevent this chipping).